Our is a story of passion for marine solutions, fostered by strong commitment and extensive experience in designing, creating, supplying and monitoring our made in Italy custom-made naval system.
Navim Group is a global brand of excellence in the engineering, construction and commissioning of marine equipment for passengers and merchant ships, navy, offshore and mega yachts.
Sailed from Genova (Italy) in 1971, Navim Group has successfully navigated the waves of the changing marine market and, over the years, has reached a global success. Today Navim is an international leading company in the naval sector, headquartered in Italy and headed by its 3 main business units, Navalimpianti Spa, Tecnimpianti Spa and Navalimpianti Usa, together with its strategic subsidiaries located worldwide.

30.000
system and equipment provided & refitted on more than:






Mega Yachts & Giga Yachts
THE POWER OF INNOVATION TO CONQUER NEW FRONTIERS
An innovative spirit is necessary to be competitive, and a brave attitude is necessary to conquer new frontiers. Since the very beginning, Navim founders have been driven by the courage to challenge the everdemanding marine industry with new solutions. Step by step, we have moved forward to serve the customers and fulfill their needs, with the same courage of our founders and with a dynamic vision of the future.
We believe in innovation and technology and always invest in these segments, that are a constant of our services.
OUR BRANCHES
Navim Group is able to offer commercial, technical and service support all over the world. It has 12 branches based in 8 countries (Italy, Croatia, USA, China, Belgium, Hong Kong, Singapore, Sweden) and works worldwide with the best Shipyards for the top Shipowners.
In addition to this, as a valuable support to Navim's business, the Group can count on a 24 hours-active service network promptly operating worldwide, able to act anytime and anywhere.

People & Respect
When it comes to people, no compromise is acceptable concerning respect and safety. At Navim, people respect people. It means that we believe in a problem solving approach based on team work and collaboration.
Concreteness & Results
To guarantee products of excellence, being efficient is the first step. Our passionate and motivated engineers design sophisticated naval systems with a professional approach and a profound technical knowledge.
Safety & Reliability
Furthermore, we foster improvements in health and safety at work, also by offering intensive training to guarantee the highest form of safety.
Experience & Innovation
Step by step, we have moved forward to serve the customers and fulfill their needs, with the same courage of our founders and with a dynamic vision of the future.
OUR DNA IS MADE IN ITALY
An Italian heart is beating in our systems. Italy is where our story began and where Navim HQs are based still today. We have left the Italian coasts and crossed the oceans in search of solutions aimed at making the life in the sea easier and safer. Every time we reach one target, we set a new one in order to always improve our services and perform efficiency worldwide.
What remains a constant value in our global story is our made in Italy DNA, guarantee of excellence and quality for our design and production.
OUR VALUES HAVE MADE OUR WORLDWIDE GROWTH POSSIBLE
Moved by an extraordinary capability to diversify the products offering and anticipate the ever-changing demands of the market, Navim Group has strengthen its position as an industry leader in the design and production of efficient solutions for the naval sector.
Globally Present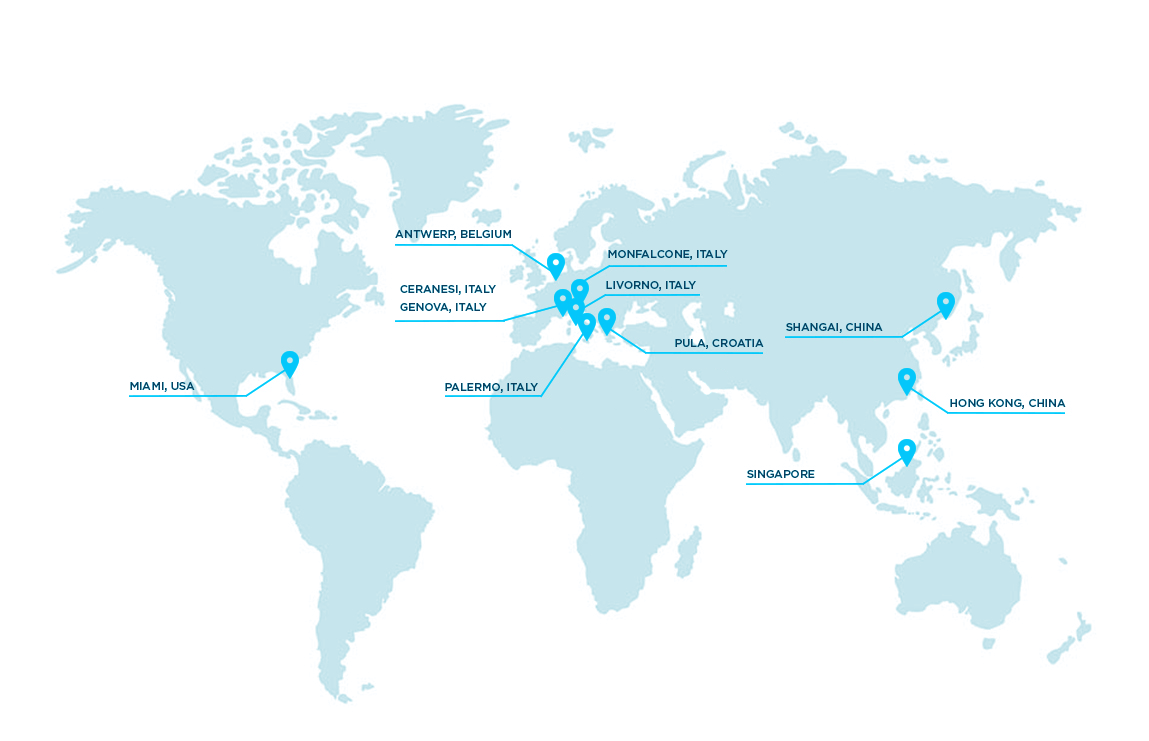 Headquarters & Offices
Navalimpianti Spa, 1971
Ceranesi, Italy
Navalimpianti Spa, 1971
Monfalcone, Italy
Navalimpianti Spa, 1971
Genova, Italy
Tecnimpianti Spa, 1973
Palermo, Italy
Tecnimpianti Spa, 1973
Livorno, Italy
Navalimpianti USA Inc., 1994
Miami, USA
Navalimpianti Shangai, 1994
Shangai, China
Navalimpianti Pula, 1996
Pula, Croatia
Navalimpianti Antwerp, 2007
Antwerp, Belgium
Navalimpianti Singapore, 2010
Tuas Lot, Singapore
Navalimpianti Hong Kong, 2017
Hong Kong, China
Navalimpianti Sweden, 2021
Göteborg, Sweden